Park Hyatt Melbourne
EM has checked into ... Park Hyatt Melbourne
Park Hyatt Melbourne is another one of the classics if you are looking for a luxurious getaway. Located at 1 Parliament Square, the hotel overlooks St Patrick's Cathedral and approximately 15 minutes walk to the heart of CBD (depending on how fast or slow your walking speed is). But the main point is that it is nestled in a quiet sanctuary yet close to CBD, perfect for guests who want to get to the city and rejuvenate in peace.
The hotel has an impressive and massive entrance that certainly gives off the 'WOW' factor. It features a drive up courtyard, a large fountain and lighted gardens. I reckon this is the only hotel in Melbourne that provides such dramatic entrance which they can afford to with the given space. that they have.
I actually quite like the website as it gives off a classy yet modern vibe and does match with their brand perception of elegance. It has a great balance of images and words, so it makes you feel like you are reading a luxury travel magazine.
Looking through their Facebook page, it doesn't really appeal strongly to me. I feel like it is just like any other business pages without a strong personality. They have focused majorly on wedding related content however they need to note that these content don't drive engagement.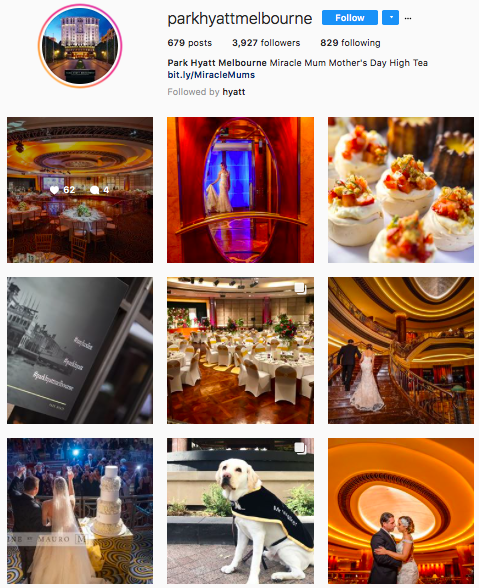 Similar to Facebook, their content is majorly wedding related which doesn't really encourage followers to engage. Even if the hotel would like to boost up wedding bookings through social media, the content should be aim to drive engagement for example asking more of 'what do you think' or 'what are your experiences' instead of just a plain statement of the image.
Room
I stayed at the Standard King Room and was quite disappointed at the bedding. It was quite ruffled up even though I know that it is clean (it doesn't look like someone just slept in it). But for a 5 star luxury hotel, I would expect the bedding to be made with perfection (or at least look flat and crisp). The pillows were also not the same as per what they have shown on the website (I call them the classy Park Hyatt pillows). At first maybe I thought that housekeeping has provided a turndown service since I have checked in during the evening after work, but even so, a turndown service should not be as 'downgraded' as what I saw. I would expect the turndown service to have the room slippers placed at the door entrance with the blanket folded on the bed to signify 'good night' as the minimum standard for a 5 star luxury hotel.
Aside from that, I have to comment that the walk-in wardrobe and bathroom are HUGE for a standard room. At least the hotel got this right when you pay a high price to stay in a 5 star hotel. There are plenty of room for you to place your luggage and move around in the bathroom.
Breakfast
Whenever we do a staycation, we always make the effort to try the buffet breakfast in hotels especially if it is a luxury one. Like they say, breakfast for the champions. Unfortunately the buffet breakfast at Park Hyatt Melbourne isn't what we expected. It didn't really give off the 'WOW' factor and the lack of choices just made me feel like it was an ordinary buffet breakfast which you can get in a mid-range hotel. Buffet breakfast at a 5 star luxury hotel should have excellent spread of choices so that guests could feel extra spoiled and leaving them an additional WOW factor to round up their experience.
However I was really impressed at the woodfire oven which they utilise to cook customised egg orders from the guests. It was really a cool concept and it made me hungrier watching my eggs being 'finished off' in the oven with some hint of smokiness.
Verdict
Overall, I think Park Hyatt Melbourne could improve not in terms of customer service but towards in its rooms and breakfast as these two factors are crucial for any guests especially if we are talking about leisure guests for a staycation retreat or for wedding functions. Luxury means attention to detail and providing beyond what a mid range hotel would offer and unfortunately I don't feel that Park Hyatt Melbourne truly delivers that although its website does give off the perfect perception of the brand.
Nevertheless, I think Park Hyatt Melbourne still should be everyone's bucket list to try at least once in their lifetime but I'm not very certain if I would recommend to pick the hotel for numerous occasion. In saying that yes I think the hotel will be a fantastic venue consideration for those who want to have a grand wedding.
I really do hope that Park Hyatt Melbourne might consider a minor renovation to refresh its rooms and it will be great for the hotel to re-focus on its training towards providing a luxurious standard as well as emphasising the factor of attention to detail. I wouldn't mind to give Park Hyatt Melbourne a second chance then.
Till next time, take care and stay inspired.
xoxo EM