Corinthia Palace Hotel, Malta
EM has checked into … Corinthia Palace Hotel, Malta
Elegant and charm, these are the core impressions that you will have when you choose to stay with the Corinthia brand. It was a tastefully designed private villa in the past but now it has transformed into a delightful getaway for those who want to experience a taste of luxury and relaxation.
The hotel lives up to its name and promises to deliver a memorable experience to its guests with the focus of an oasis in the Maltese way.
What do I think about it? Let's read on and find out!
I love how the hotel has caught up to the upcoming trend of website design. It focuses on the use of carousel images and making the website look more like a lifestyle magazine. Very striking and strategic choices of images!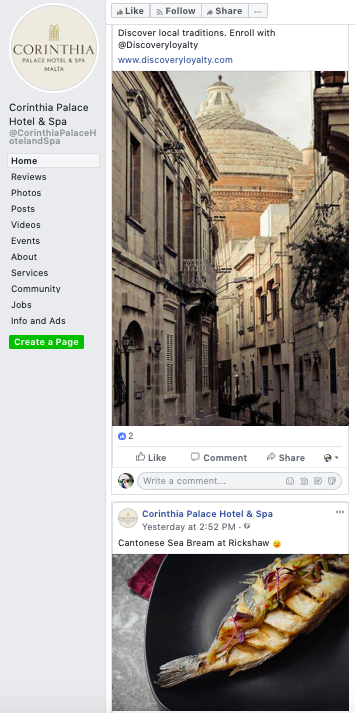 Even though the images are insta-worthy and the choices are strategically balanced with content about the hotel, Malta (destination) and F&B, there is a lack of engagement since the descriptions are just describing what the image rather than placing questions or initiating opinions in hopes of generating conversation with its followers.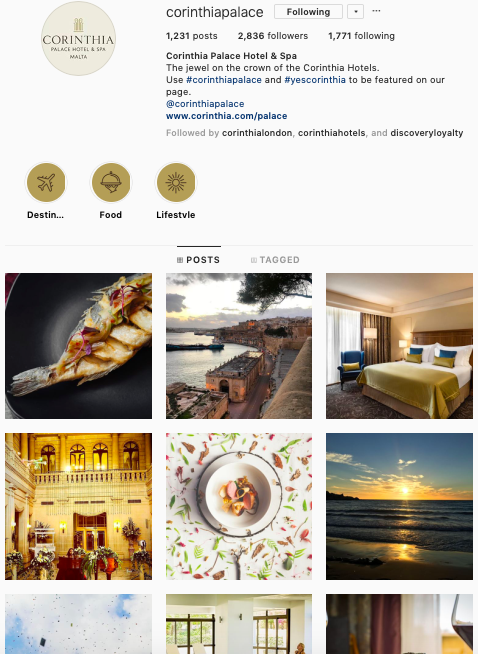 As per the comment made with their Facebook, their Instagram also faces low engagement rate due to the way the description was made. However their choices of images are excellent and staying true to its brand associations. Making its page look classy and insta-worthy.
Arrival
Without hesitation, I immediately had a major WOW factor as I entered the hotel entrance. The exterior facade was gorgeous and made me feel like I was entering into the history.
The interior of the reception and lobby was carefully designed to bring out the colours that are resemble the country of Malta but in a very elegant and classy manner.
I instantly felt very prestigious indeed!
Room
For my stay, I have chosen to stay at their standard room. The room comes with a balcony that has quite a decent view of the hotel and great to wind down or start your day with a stunning sunset or sunrise moment.
The star of the room has to be the BED. I love it how it is splendidly made with no crease lines, which a lot of branded hotels (even the luxurious 5 star ones) can't even get this right. It has served the purpose of giving the best possible first class impression of how a high class bed should look like, straight forward and clean. Both the main pillows, bed linen and blanket are made in this way, STUNNING! Thumbs up to the team for such a great detailed effort!
I also absolutely adore a slight touch of gold with a sort of honeycomb-like texture on the smaller pillows and bed scarf.
Bathroom
Since I was staying at the standard room, it was expected to have just an ordinary bathroom. However, I must say that the bathroom probably should due for a makeover. It looks slightly dull compared to what I have experienced for the rest of the hotel. Nonetheless, it was extremely clean and dust-free, yup I did a dust swipe haha.
Pool
Since I came during the winter season, it was too cold to get into the pool. But I can imagine how nice it will be when it's warmer. There were several pool sections which can take in more people and at the same time doesn't feel like it's overly crowded.
Verdict
Overall, I had a fantastic stay with Corinthia Palace Hotel Malta. I love the heritage feeling of the hotel and definitely a HUGE bonus point for making sure that the bed is crease-free. It's been so long since I have seen a hotel doing this properly. Also, the bed was extremely comfortable and I did not even wake up once during the night and feeling super rejuvenated the next morning.
Additionally, every front line staff that I have encountered were so friendly and warm but kept in an elegant and professional manner. From the front desk, concierge, in-room dining to the housekeeping attendants, a great team effort and it shows that how much the employees are doing their jobs at their best abilities.
So if you are looking for a unique staycation in Malta, stay at none other than Corinthia Palace Hotel Malta. I can assure you that it will be worth it and highly recommend you to experience a once-of-a-kind oasis.
Till next time, take care and stay inspired.
xoxo EM