Sage Hotel Ringwood
EM has checked into ... Sage Hotel Ringwood
Sage hotel brand is under the main umbrella of Next Hotels & Resorts, which are not truly well known in the market, but there is a strong potential to grow further and enhancing their identity as a sense of Australian community.
And growing up in the Eastern suburbs, when I hear of a new hotel brand coming to Ringwood, I was extremely excited and finally had the chance to experience the hotel. WOW it did not disappoint me at all! I love the design elements and how it is very unique compared to other boutique hotels that I have experienced in Melbourne (Read further down to find out why!). I think Sage Hotel Ringwood really captures some European concepts of an open communal space and interpreting as their own (thank you very much! Finally a hotel in Australia that does something to catch up with the trend...).
With Sage Hotel Ringwood, I absolutely love it that it delivers its brand identity from website to the actual stay and each step is flawlessly consistent (Read more to see why I said so). I love the art selected strategically from the car park entrance, to the lobby and restaurant as well as in the rooms, which consistently reminds you of Hosier Lane but in a classier way - also somewhat reminds you of Melbourne, a city filled with art and culture.
I love how the website is simple, easy to navigate yet displays everything that you want to know of the hotel at a glance. It just makes the website looks so neat yet a powerful mechanism to attract you to book. And again, tying back to how they are catching up with the trend, they have developed a fantastic video right in the middle of their homepage. I love how the video is strategically upbeat and not too long that it will appeal to anyone to watch till the end of the video. Also, very smart of them to showcase mostly on their surrounding areas, things to do and the emotion of the people - this is very powerful so that guests would want to feel like the people in the video and would choose to stay with the hotel in hopes to gather the same experiences and emotions depicted in the video.
They have a healthy number of followers in their Facebook page however it is not the case in terms of engagement...hardly any likes and comments. So this is probably something they need to improve on . Perhaps they can include a question at the end of the content to ask their followers or maybe really engaging art content that ties with their brand.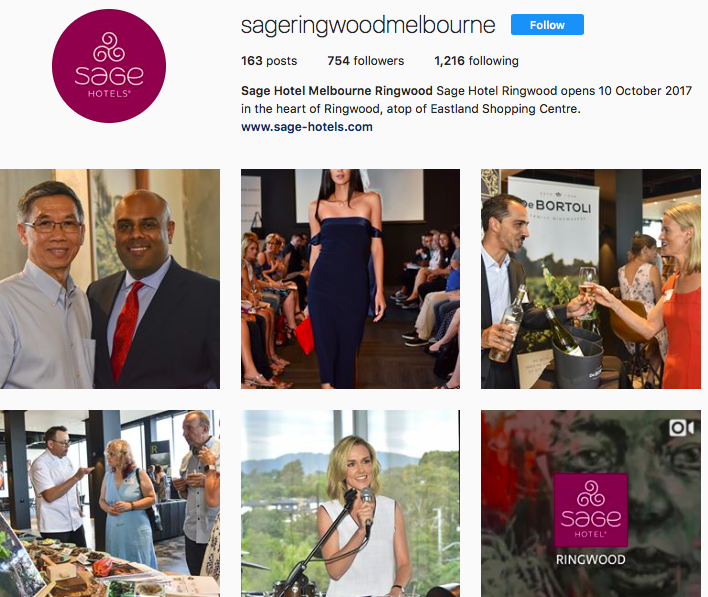 Oh no what's going on with their Instagram page? Much less followers but very high numbers of likes. Opposite of their Facebook statistics. Also, there hasn't been a post since 3rd March and their posts aren't what I expect their brand should be...should be eye-catching, fun and artsy.
Communal area
Can I just rave about how amazing the concept of communal area in hotels especially boutique hotels? It is the upcoming trend to incorporate a sense of community and I'm loving it. Especially it is so well done for Sage Hotel Ringwood. It already inspired me to sit and work there (how crazy is that!). I think this will also be absolutely a great place for meetings if you want your delegates to be inspired and focused. Also, it is very thoughtful of Sage Hotel Ringwood to include chill out areas with inviting furniture. Love the colours, the wooden touch, grey cement flooring and a focus of industrial design. Modern yet fashionable. Brilliant!
I have booked the Executive King Room with views of the Dandenong Ranges although it doesn't provide the best view but still acceptable. The room is quite spacious and the bed was comfortable. I love the choice of the hard cover coffee book with a design topic for guests as it gives off a more premium feel rather than regular magazines (And this hotel isn't classified as a luxury hotel so definitely thank you for making us feel extra special).
The bathroom is clean and simple, nothing that really stood out with normal amenities. But as I said before, this is not a luxury hotel so it is expected to have basic amenities for Sage Hotel Ringwood. Although I wish that they would incorporate a bathtub for their higher room category (e.g. for Executive King Rooms only) when they built the hotel so that it gives another excuse for guests to come as a relaxing staycation.
Breakfast
My room package included breakfast at the time, which I am not 100% sure that it is still the case now. Please be aware that it is free continental breakfast with a range of bread, pastries, cereal and juices. It is just what you need to start your day right. If you would like to have some hot items, they do offer it at $10 and they will cook as per order in their open kitchen.
Verdict
Overall, I think Sage Hotel Ringwood is a fantastic hotel to consider for your next mini getaway. It is right next to Eastland with direct and easy access so that you can shop till you drop literally! Or you can stay here if you would like to explore the nearby Yarra Valley at a reasonable cost. With the price you pay here, I think it is definitely worth while to try it yourself. Come now when it is still a brand new hotel!
I just love the large communal space and the decor of the hotel. Very industrial yet artistic. It just gives me inspiration to focus and chilled out at the same time. Even though it may seem like a small hotel from the outside but it feels very spacious once you are in the hotel.
Many highs to comment for Sage Hotel Ringwood although I hope that they will improve on their social media channels to engage with their followers more. They have so much to offer and I believe that the brand should deserve a much better awareness. But definitely I will recommend Sage Hotel Ringwood for everyone to experience for once.
Till next time, take care and stay inspired.
xoxo EM