Shangri-La Far Eastern Plaza Hotel, Taipei
EM has checked into … Shangri-La Far Eastern Plaza Hotel, Taipei
I have stayed at Shangri-La Kuala Lumpur in the past as a kid and it was my very first experience staying in a hotel as a family staycation. In fact, it was the spark that ignited my love for hotels ever since. I remembered that it was grand with hint of royalty notes, spacious and the vast variety of different outlets which I explored. It was like a hotel Disneyland to me as a kid.
So does the experience at the Taipei property will bring the same impact and memory? Stay tuned ~~~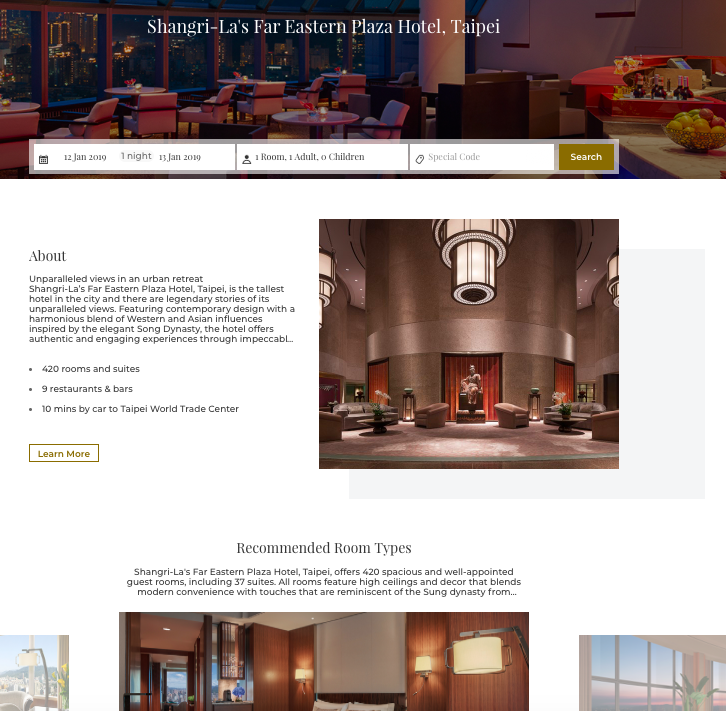 The website works like any other branded hotel's website. Classic, clean and easy to use. I love how the rotating banner showcases images of Taipei 101 view, which is very important since this hotel is the tallest hotel in the city.
I like how their Facebook page focuses on activities such as classes, F&B offerings and room views captured by other Instagrammers. It makes their followers would want to go back to the hotel again to try different experiences.
Their images are certainly insta-worthy, so a fantastic effort to manage the content. However I'm surprised to see the low level of followers even though their images are great. The engagement level is low as well. Perhaps the writing of the text need to be more inclusive and prompting followers to respond. Also, they can do a few campaigns in the hotel to encourage guests to follow their Instagram account.
Arrival
I was greeted with stunning Christmas decorations at the lobby however it was the last day of the Christmas display as they were going to change to the Chinese New Year decorations the next day, well it was already first week of January when I stayed so ok point taken.
The concierge guys would have already whisked away my luggages when I entered the doors in ninja-speed that I didn't even aware but not in a creepy way. It just made me feel ready for a staycation. The front desk agent who checked me in was just incredible and friendly, full of smiles. I was also been given a welcome sweet ginger tea, very nice!
She also walked me to the guest lifts after checking-in, now that's what I called a basic when it comes to luxury hotel standards.
Guest Lifts & Corridors
Just one thing to mention, this is the first time so far that I noticed artefacts displayed in each floor. And all of them aligns to the traditional Song Dynasty. Feels like I have stepped back in time yet in a modern setting.
Room
I have booked the Deluxe Room with mountain views (unfortunately ain't got enough money to book myself a room with Taipei 101 view), so yeah the lowest room category with the budget that I have. But I'm not disappointed at all.
The room is surprisingly very spacious, with a large walk-in wardrobe that I think I can sleep in there if I want to. And a plus point is that they provide plenty of free water bottles, like seriously I wouldn't be able to finish all of them. One at the coffee machine, one beside the bed and one in the bathroom (per person).
And I LOVE the top cabinet with the glasswares, feeling very fancy indeed!
Bathroom
And again like the room, the bathroom is huge as well with a bathtub, high-tech toilet (like those Japanese automated toilet bidet, yeah!) and rainforest shower. The amenities provided are also premium as expected from a luxury hotel brand, especially when it is a global chain.
Other Facilities
Ok so first of all, they have the best spot for all your insta-worthy shots of Taipei City, especially Taipei 101. I wish that you can order a drink here and sip it while you chill at the rooftop pool.
Second, you gotta try their health club when you stay here. it is gender separated, has a public sauna and indoor hot spring with jacuzzi function. Unfortunately I didn't take any photos of this space since it involves naked people. I came across the health club when I was going to take a shower at the end of the day before leaving for my midnight flight out of Taipei. The health club is just stunningly beautiful and very effective.
Third, if you have some time before heading out for dinner, I would highly recommended you to head up to the Marco Polo lounge. You will find some interesting cocktails inspired by the traditional Chinese dynasty plus the lounge presents one of the best city and Taipei 101 views.
Verdict
Even though it was a short stay, it was memorable nonetheless. Not because of the room, but it was the overall experience that the hotel provides, from the service to actual amenities/facilities that deserves its luxury brand. Like what I remembered as a kid, Shangri-La Far Eastern Plaza Hotel Taipei gave me an excitement for me to explore various lounges, health club and rooftop pool.
The service was also top-notch. Every staff member from housekeeping to front office and concierge are truly friendly and you can feel the warmth in their service language. So thank you very much for your effort into providing what it truly means to stay in a luxury hotel. I personally understand that it can be challenging at times working in this industry for more than 7 years, so well done team!
One small tiny downside of this hotel is its location. It is easily accessible if you don't like walking. Walking to the nearest MRT station is around 10 minutes and still it will take you some time to travel to other parts of Taipei.
Till next time, take care and stay inspired.
xoxo EM