Hotel Ottilia, Copenhagen
EM has checked into … Hotel Ottilia, Copenhagen
People often associate Copenhagen as the capital of design, and true enough the Danish design is indeed remarkable, simple yet contemporary and memorable. No question that we would expect the same for its hotel designs. Not only the city is pretty, I truly believe that you need to try and stay at a local hotel to savour the full Danish design experience.
So when I had the opportunity to travel to Copenhagen, I was thrilled and looking forward to experience the unique Hotel Ottilia.
What do I think about it? Let's read on and find out!
I LOVE the design of the website. It instantly associates with how a boutique hotel should represents and it looks like a top class lifestyle magazine. Very appealing for its market and extremely attractive design indeed! Easy to give off a WOW factor since not many hotels invest in their website design.
Perhaps it is still a new hotel so they may not have adequate resource to focus on managing their social media content. But hopefully they will start looking into this aspect soon as they do have potential to make this hotel insta-worthy.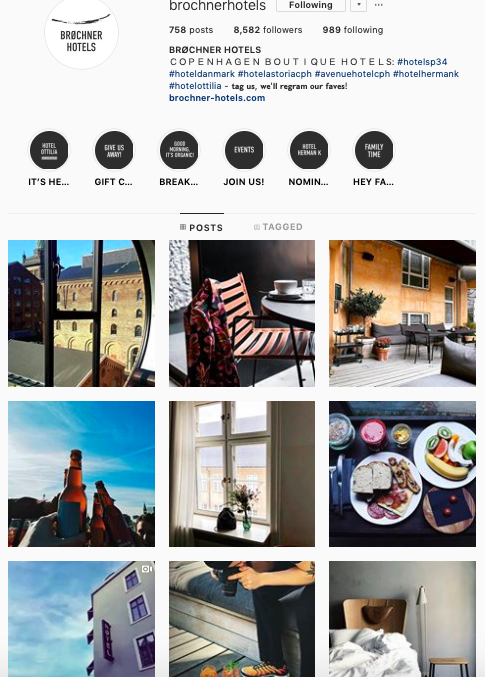 Interestingly their Instagram strategy is to follow a centralisation strategy to manage for all of their hotels. Can be effective for cross promotion and also the content are carefully curated to fit similar look and feel. Impressive work!
Arrival
Formerly the Carlsberg brewery, this hotel is located in the upcoming and vibrant neighbourhood of Vesterbro. It is around 20 mins walk to the city. There is a station very close by which you can consider. Nonetheless, the hotel is surrounded with cool and hip shops/restaurants/cafes. Great staycation idea!
The hotel was easy to find and the check in process was very quick, which I was very much looking forward to get to my room after a long day exploring the city.
Room
I chose to stay at the Superior Double Room category with the spectacular window.
The first impression that I had when walking into the room was the high ceiling. It instantly made the room felt spacious and more refreshed with plenty of sunlight coming through the window.
Next would be the colours of the room, the major colours were grey and white with hint of wood. Felt very industrial and contemporary.
Finally, voila the grand masterpiece of the window! Best highlight ever, just to chill after a long day and looking out to the view. Easy to fall asleep there too! Also great for your instagram haha.
Bathroom
The bathroom is partly exposed and connected to the room itself. So that you can take advantage of the natural light while getting ready, but don't worry, there is a door for the shower area so you can have your own privacy. The toilet is separated from the bathroom which is situated beside the room entrance.
Hotels lately are very into the whole 'open' concept so I can see why the bathroom is designed as such. I think it is very modern and trendy to have an 'open' bathroom in the room.
The bath amenities that they provided were really nice and refreshing, since grapefruit was one of the key ingredient. Instantly refreshes your senses, love the smell of it when you shower with it.
Wine Hour
Did I mention that they offer a glass (or two) of wine every day? The wine hour was between 5 to 6pm and the wines were extremely delicious and high quality. Another great thing is that you can enjoy your glass of wine at one of their social spaces which are very comfortable, cozy and cool. I really felt like I was at home but in an elevated design level.
Breakfast
'The Best Organic Breakfast' was included in my room rate when I booked, but do note that it was continental organic breakfast. There is an additional charge for hot breakfast. Since I don't really eat much for breakfast, I have opted for the continental breakfast but to my surprise, they offer free flow of sparkling wine. YES PLEASE!
Now this is what I called - Breakfast in Style. Thank you very much!
Verdict
Overall, I had such a fantastic experience staying with Hotel Ottilia. Firstly, the hotel gives off a very cool yet cozy vibe. Every corner of the hotel is so insta-worthy and I couldn't help but to have fun along the way.
The bedding was also extremely comfortable, it was perfect! I love the softness of the linens and the perfect firmness of the mattress - crucial for one's beauty night sleep!
In a way, I felt like I was staying in a chic cafe.
The social spaces were really cool as well! Love how they were separated from each other with different designs. Unfortunately they were quite occupied when I was there so I didn't want to take photos to invade their privacy.
Lastly, their breakfast was the icing on the cake. With much focus on organic sustenance along with a few cheeky glasses of sparkling wine, I was set to go to start off another great day!
So if you are looking for something unique or insta-worthy in Copenhagen, come and stay at Hotel Ottilia. Highly recommended and I can assure you that you will have a memorable staycation, to rest and recharge.
Till next time, take care and stay inspired.
xoxo EM