JumboStay Hotel Arlanda, Stockholm
EM has checked into … JumboStay Hotel Arlanda, Stockholm
Trendy and cool, these were the impressions that I had when I stayed at JumboStay Hotel Arlanda (Arlanda airport) in Stockholm. This place was just screaming 'INSTA-WORTHY' out loud and it was definitely an one-of-a-kind experience. Being a vivid travellers, I have always wanted to know what it's like to see and feel being in a cockpit, never imagine to have a sleepover in one!
So when I had the opportunity to travel to Stockholm, I was thrilled and looking forward to experience the unique JumboStay Hotel Arlanda.
What do I think about it? Let's read on and find out!
I like how the website portrays a good first brand impression of what the hotel, with a huge hero image carousel, simple and clear navigation, which suggests that this is an accommodation that provides basic necessities but with a touch of modern-ness and unique-ness.
Perhaps since this is a small-scale operation, I'm assuming that they do not have someone that manages their social media channels, hence there hasn't been any new content since February 5, 2019.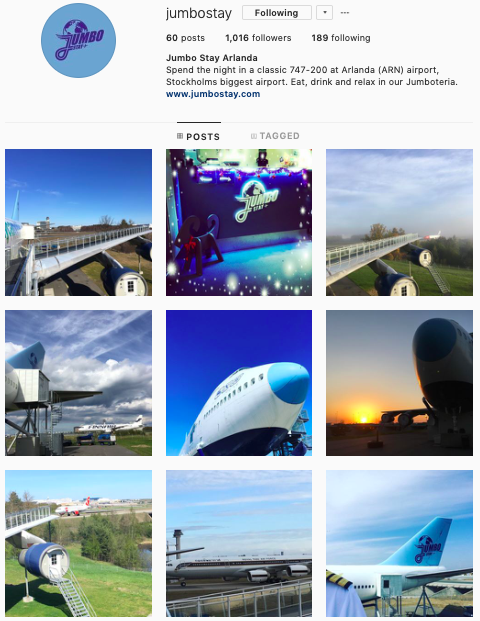 Such a shame that they do not have the resource to manage their social media channels as I feel that they have so much more potential and could easily boost their brand awareness around the world since they have a fantastic product, great for attracting Instagrammers or leisure market who is just after the 'Instashots'.
Arrival
To get to JumboStay Hotel Arlanda, you can either drive there or take the free shuttle bus from all terminals at Arlanda Airport. Pretty easy and convenient!
Once I got off the bus, there was a short walk towards the airplane hotel. It was like walking towards a surreal experience and slowly it hit me that I am going to stay in this incredible aircraft for the night before my flight out of Stockholm the next day.
The airplane wing was transformed into a viewing platform, how cool is that!
There were so much excitement in store for this place and I felt like a child exploring every inch of this area like it was my playground.
Room
I had the privilege to stay in the Double Bed Ensuite Cockpit. Now I can say that I have experienced something better than first class! The room was very comfortable and cosy. Obviously the main highlight was the flight control features, very fun indeed!
Mini bar was included for my stay which consisted of 2 x small sparkling wine bottles, water and a decent size of chocolate bar. What a great way to start the staycation!
Bathroom
A private bathroom was connected with the cockpit room. It looked very fresh and modern, love the hues of amber colours that instantly refreshed my senses.
First Class Lounge
Since I was staying at the cockpit suite, I did have the whole top floor all by myself which includes the First Class Lounge which they use it as a meeting and conference space. That will be a cool, creative and innovative meeting space!
Common Areas
Beside the reception area, there is a cafe/dining area which we can enjoy and relax with a cup of hot drink. There were tiny candles lit when it was night time so it had an extra romantic feel to the space.
There are also seating benches outside which I can imagine will be a popular choice during the summer but since I was there during winter, it was windy, cold and wet so no thanks! But it was still cool and fun to explore.
Especially with the swing!
Verdict
Overall, I had such a terrific experience staying with JumboStay Hotel Arlanda. Everything was so cool, quirky and fun. The front desk members were so friendly, kind-hearted and warm which just brighten up every moment of my stay.
One thing to mention is that they have plenty of other room types available which are unique to their own, something that I will look forward to come back and have a different experience. But the cockpit room was a surreal experience for me so that I can imagine myself as the Queen of the Skies!
So if you are looking for something unique to stay and something that is Instagram-worthy or even to make your family/friends go WOW, this is the place! The only hotel that was transformed from an airplane entirely and the price was also very reasonable. I can assure you that it will be worth it and highly recommend you to try a one-of-a-kind, better than first class and unforgettable experience.
Till next time, take care and stay inspired.
xoxo EM