Six Senses Laamu Maldives
EM has checked into ... Six Senses Laamu Maldives #thathoneymoonparadise
Yes there are so many resort options in Maldives that you can spend months trying to decide which one is THE ONE nonetheless you should probably consider Six Senses Laamu into your list. I've always wanted to try a Six Senses property after hearing of its reputation and since we have an incredible excuse to splurge, why not?!
The brand Six Senses prides itself being a luxury eco-resort that seeks to deliver a personalised experience. Each of its property is unique so *no brainer* a very smart strategy to encourage their existing guests to explore other properties. Overall, my stay here was exceptional but not perfect. Is it worth it? Read further and find out.
I like it that it is simple and definitely easy to navigate. A smart strategy to have a larger picture carousel at the centre of the page to allow users to focus there as the 'first impression'. We can all admit that our eyes will instantly look for pictures when we go to any websites.
Overall, their website gives off a very 'educative' sense through detailed descriptions but not overwhelming. Kinda like a newsletter which I can imagine appeals to their target market.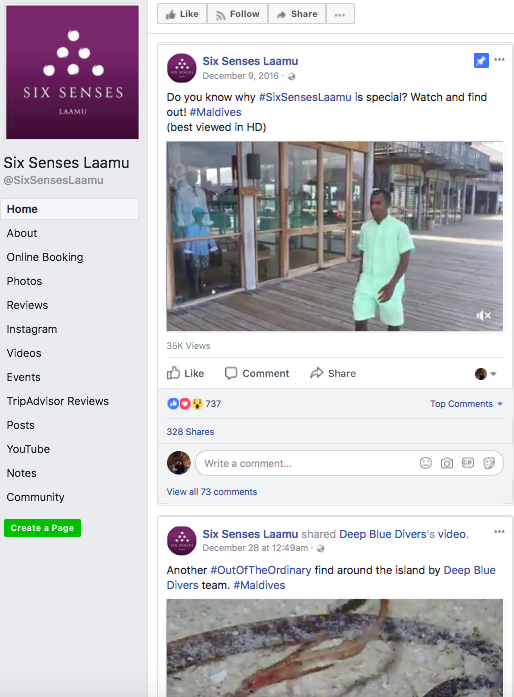 Both platforms are well executed with a combination of pictures and videos. In fact, I am actually surprised that they have posted video content regularly and each of them are very well done. So a big LIKE!
They say all good things come for those who wait...well in this case, travel and wait times. But it is definitely worth the journey! Upon arrival at Male International Airport, you will have to take a domestic flight which the resort will prepare in advanced. After that, it is a 20minutes boat ride to the property. In a way, you feel like Indiana Jones searching for a hidden treasure. Good thing is that you even do the transfers late at night if your international flight arrives at night so you don't have to sleep in the airport to transfer to the resort the next day.
I stayed at the Lagoon Water Villa...to be specific, Villa #6. It is the best villa in the room category since the Ocean Water Villa is the next room category. Highly recommend the Lagoon Water Villa and don't bother with the other room categories. Reason being is that you are closer to the lagoon and still having a great view of the ocean with partial view of the main restaurant (which looks fantastic by the way). A downside depending on how timid you are is that when the storm comes at night, you are in for an 'adventure'! What I mean is that the wind and rain were so crazy that the whole villa shock since there is literally nothing in front of you. And please remember to bring in whatever that you are drying outside at night because you don't want some unexpected surprise floating on the ocean the next morning...
Breakfast is served daily at their Longitude restaurant. The restaurant itself looks incredible and spacious hence we still feel secluded and not overwhelmed by people-noise pollution. Which is a good thing when you have paid lots of $$$ to have an intimate honeymoon/vacation.
Unfortunately there was a slight let down with their breakfast offerings as they were serving the same buffet everyday. Did they not ever think that people who stay in this location normally stay for more than 3 nights? I don't know about the rest of the guests but I was certainly bored of breakfast by day 3. Nonetheless, the buffet deco does look impressive.
Back-of-house tour (Highly recommended!)
At first we weren't too keen about going for this walking tour. But we had some time to spare and didn't want to go for snorkelling (seriously you can't snorkel 24/7, we are not mermaids), so we thought why not give this tour a try and it's free. And yes it was totally worth it, they gave us so much insights on how they can recycle and focus on conservation. I am amazed at their creativity and their long-term sustainable plans. Additionally, it was also interesting to observe the staff living quarters.
In summary, the resort is truly remarkable. I was concerned at first that we might be bored by day 3 but boy we were wrong. There were quite a few activities and they do provide you with a daily schedule on a weekly basis for your inspiration, some which you have to pay and some were free. We really enjoyed the free massage workshops that you also get to meet with other couples in a small class. I didn't manage to get some pictures but the Finding Nemo snorkelling excursion is insanely top-notch and it was worth the money spent.
In terms of service, it is pretty much what you would expect in a luxury hotel brand. You do get a GEM (Guest Experience Manager) that will be your assistance on everything...literally EVERYTHING! One thing that I have to take note is that they are seriously hardworking. I see them all the time from early morning to late night and do wonder if they ever sleep at all. However, the Food and Beverage team might need a bit more of a service consistency and training as I find different waiters were having different service tones as well as frequent errors on our orders.
With a slight let down from the Food and Beverage department, I thereby rate this property incredible but not 100% perfect. When you have paid big bucks, every tiny little detail needs to be perfected and demonstrated. Consistency is key. This is what being a luxury hotel brand means. Nevertheless, Six Senses Laamu is a once-a-lifetime experience and if you like variety in your Maldivian vacation, do consider this resort. Their fresh herbs on every dining plate is to DIE for since they have an on-site garden patch. AND my god their wooden floors (both indoors and outdoors) were SENSATIONAL which is critical considering that the resort encourage guests to walk barefoot #mindblown
This is my first blogpost and the start of EM checked in journey. What do you guys think? Leave your comments on my Facebook and Instagram! Subscribe and you will be the first to be notified on my next post. Thanks for reading and I hope you will find passion in hotels like I do.
xoxo EM