The Jazz Corner Hotel Melbourne
EM has checked into ... The Jazz Corner Hotel Melbourne
Opened in early 2017, The Jazz Corner Hotel became a new jazzy sensation among the older and younger crowds who love a musical transformation. The hotel has been deemed as the coolest addition into the boutique hotel industry within Melbourne and certainly the first to incorporate a jazz theme.
The hotel has a straightforward concept and offers three accommodation options: studio, one bedroom and two bedroom apartments. Moreover, all rooms will feature fully-equipped kitchens and washer/dryer so definitely convenient for long-term guests and for those who prefer those facilities in their rooms during their travels.
So since this hotel looks like a promising new entrant into the market, I have decided to check in and experience. Overall, the hotel does truly execute their concept successfully but there are a few drawbacks which I have noticed. Is it worth it? Read further to find out.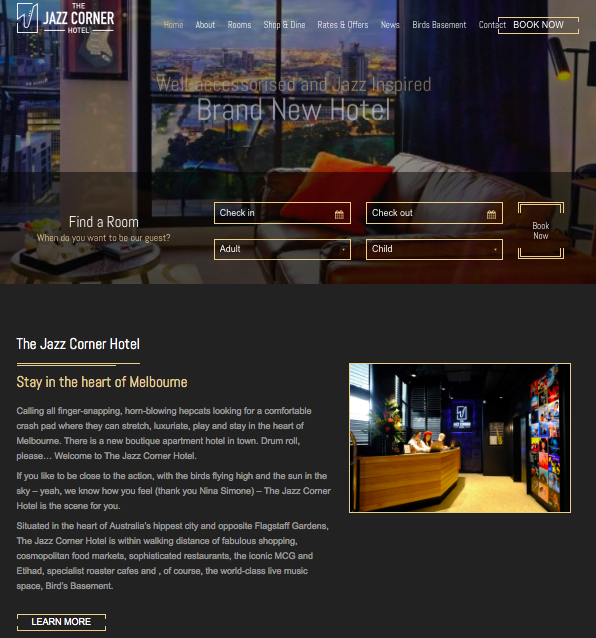 Clean yet stylish with a touch of interactive elements
Definitely will appeal to their target market and the website did a splendid job of presenting brand elements with the darker yet striker colourful tones. I love the images which align with the hotel's concept and well done for the hotel to place a considerable effort to manage their website content.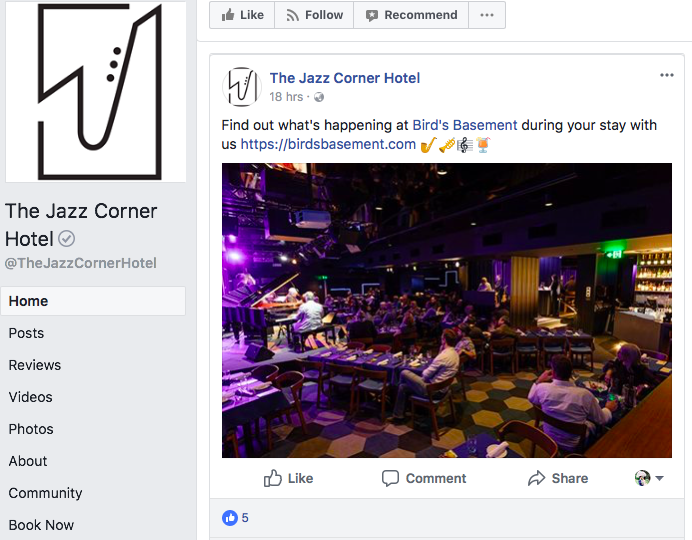 Post regularly but not quite there yet...The hotel could improve by incorporating more interesting facts of jazz that people might not know about instead of making its Facebook page like any other business pages.
Arrival
Staff was friendly at check in although their EFTPOS terminal was out of order at that time so it wasn't a hassle as they easily managed the issue by getting my credit card details #nodramas
One thing to take note is that their check-in area is fairly small so if you are travelling in a big group, best is to just assign a representative and the rest can wait either outside or there is a nearby sitting area through a corridor (towards the guest lifts).
Guest Room Corridors
Ok so everything has been going well so far and I have been deep diving into the whole jazz feels but then the brake was hit when I head up to my allocated room. As you can see from the image below, this is a big contrast between what we have been experiencing so far from the website and check-in. Both the carpet and the white walls brought so much confusion to my head and they brought me back to the memories of university student lodge. Why not replacing the carpet with a more colourful tone to continue the whole brand experience?
There are a few Studio options which is not outlined in the website but showing in the booking engine for me to select (Another minor improvement that the hotel can look into). I have selected the Studio Funk option which overlooks the city. Overall, the room is extremely spacious and luckily brought me back into the jazz vibe once more, especially with a cool wallpaper at the desk along with a saxophone wall decoration near the TV, the leather touch of the couch and the colours incorporated for the bed. Although the bathroom can use some transformation at a later stage as it is currently looking like a serviced apartment bathroom. Oh and it was so strange that there is an espresso machine in the room but there isn't any coffee pods?
Verdict
In summary, The Jazz Corner Hotel Melbourne is certainly worth the value. I was really surprised at their price point with what they can offer through experience, comfort and convenience. In terms of their website design, they really can outshine most competitors and an excellent strategy to draw in users.
The hotel isn't centrally located in the Melbourne CBD but it is still a quick walking distance or trams are just located at its doorstep. Even though there is an applause for the hotel's effort on their theme, there is still some improvements to be done. Also, the hotel needs to move from being a serviced apartment standard to a hotel one, otherwise it can be deemed as a disappointing experience for hotel experts. Nonetheless, I would still recommend this hotel for people who loves spacious rooms with fully equipped kitchen and washing facilities. You don't need to be a fan of jazz to stay here so why not consider to be inspired next time?
Till next time, take care and stay inspired.
xoxo EM