Banyan Tree, Kuala Lumpur
EM has checked into … Banyan Tree, Kuala Lumpur
Wow it has been awhile since the previous Bizarre hotel review for Six Senses Laamu…so I thought why not treat myself for an extra special birthday staycation in Kuala Lumpur as well as experience the Banyan Tree brand for the very first time after hearing so much about it.
Banyan Tree Kuala Lumpur was only opened its doors in July/August 2018 so it is fairly new. Taxi drivers might not know where it is so you will have to mention that it is situated beside Pullman hotel and they will get you there.
I also have heard about its incredible views of the city, KL Tower and KLCC. And their afternoon tea looks stunning too, which I have done a full review about it here.
Staying in an ultra-luxe hotel brand does come along with a high price, is it worth it? Read on about my experience and why I would highly recommend it!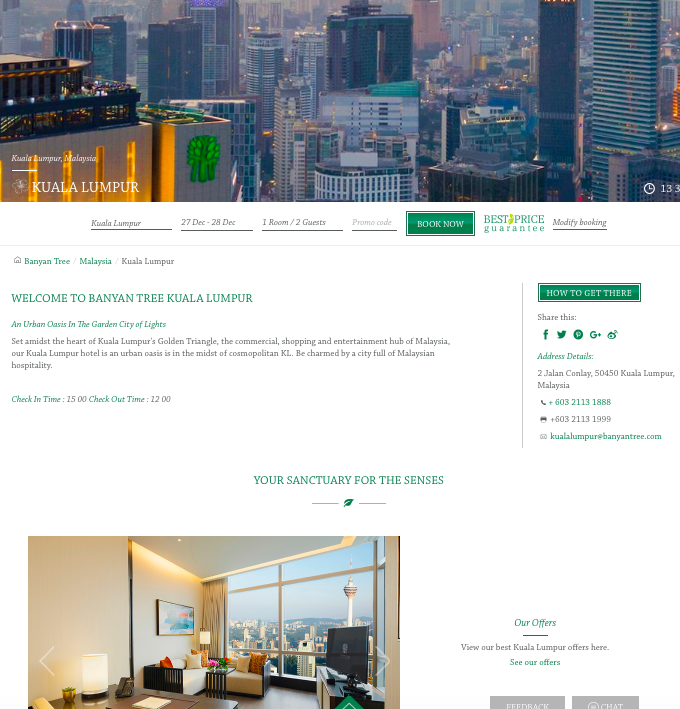 A generic website as expected with a global hotel chain. It's clean and easy to find information at one click away. It is also has a slight fresh feel to it to bring a sense of relaxation and rejuvenation.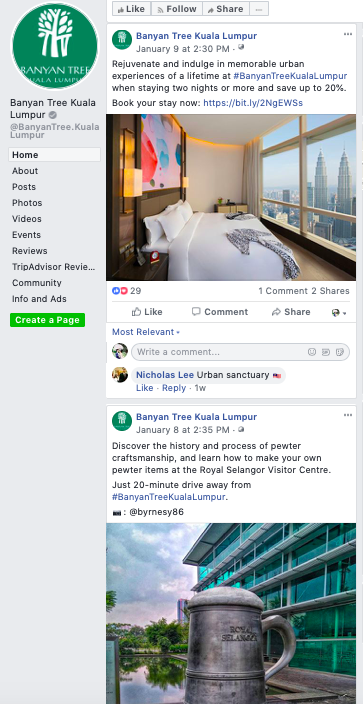 As a new hotel, I think they are doing a great job on engagement and content. The content and images are carefully planned with a variety of user-generated content, F&B and own content.
And again, the content is strategically selected and planned so that their page looks insta-worthy.
Arrival
When the elevator door opened, I was immediately greeted by the natural sunshine from the floor-to-ceiling windows. It was certainly a great start to the perfect staycation. There's just something magical about high ceilings with plenty of natural light coming in.
One thing to note was that their reception area was not hugely grand so I'm not sure how it will be like (whether if it will be overly crowded) during peak hours of checking in/checking out as I checked in early and checked out later during my stay.
Check in process was fast and I got to select one essential oil and incense stick from a variety ranging from Asian to Western scents. A nice gesture for the hotel to introduce its sense of rejuvenation to their guests.
Room
I have booked the Signature Banyan Retreat King Room with view of the KL Tower. First impression was that the room was very spacious with an amazing king-sized bed, seating area, walk-in wardrobe and one of the most impressive bathroom which I will talk about later on.
I also love this room design because it felt very modern yet with a hint of urban tropical-ness. Very unique and well represented by its brand indeed. Although I wish that the windows are not so old fashioned so that the pictures won't look awkward with cross bars, but oh well can't complain.
Love it how they decorated the room with pink and yellow coloured balloons as well as a Happy Birthday sign across the bed since it was my birthday. Really appreciate this thoughtful surprise!
Bathroom
One sentence to summarise: THE bathroom to die for!!!
Dual vanity with thoughtfully tailored amenities separated by male and female, a make up table, shower with the million dollar view. The rainforest shower has a funky lighting settings that will make your shower extra fun, as well as additional functions to provide extra rejuvenation.
And let's talk about the bathtub, my gosh I could stay soaked in there all day but I will be puny. The bath soap provided was sensational and the bath didn't take long to be filled up too since the water was so powerful. SCORE!!!
Vertigo Bar
Once again, the similar sentence to summarise: THE rooftop view to die for!!!
I don't think many people know about this rooftop bar since it is fairly new. Just starting at the panoramic view of the city including the iconic KL Tower and KLCC instantly make me feel like a millionaire haha. A great insta-worthy backdrop too I must admit!
Fortunately it wasn't raining at the time that I went and the sky was so clear for the perfect sunset view.
One thing to note was that you better get up there early otherwise you won't be able to get a seat/table! It is a fairly small bar. I went at 5pm and the bar was already getting crowded.
Breakfast
Their buffet breakfast is served at Horizon Grill. Ok this time, I have something that I found absolutely disappointing about, their breakfast was just incredibly underwhelming.
Firstly, their selection was so small and limited that your stomach won't be full since there was hardly anything to eat. I don't even know what else I can say about it since there was literally nothing…
For the price you paid to stay overnight AND being known as a luxury hotel, I expected a decent buffet breakfast worthy of its name and star rating. I thought this hotel brand is all about 'sanctuary of the senses'?
Although I'm not sure if they have improved their breakfast and it might be much better now since I stayed here during Christmas week in 2018.
Verdict
Overall, I had an incredible experience with Banyan Tree Kuala Lumpur including its afternoon tea service which I have reviewed about it here. The hotel was thoughtfully designed to provide the best relaxation and rejuvenation for its guests and the service was sensational too.
I have a thing about bathtub especially when it relates to a staycation, I feel that I cannot have a proper staycation without a bathtub. And this bathtub was seriously next level. Plus the huge vanity area with incredible amenities #bathroomgoals
And not to forget about the million dollar view of the city, KL Tower and KLCC. Simply took my breath away!
The downside of this hotel during my stay was its breakfast. The selection was limited and disappointed for a luxury hotel standard plus you would have paid a lot of money to stay here. Even a four star boutique hotel does better! But in saying that, they may have improved on their breakfast service now as I stayed during Christmas week in 2018.
So next time if you want to have a breathtaking staycation especially with stunning views, I highly recommend you to try Banyan Tree Kuala Lumpur. It is worth the price tag and the extra dollar sign. You will feel like a millionaire staying here.
Till next time, take care and stay inspired.
xoxo EM