QT Melbourne
EM has checked into ... QT Melbourne
QT is classically known as being unique, fun and quirky in all of their hotels and resorts in Australia and New Zealand. From the design to the service style, they have never failed to bring much surprises to their guests.
So when QT has decided to venture into the Melbourne market, it has been one of my top bucket list to experience the brand. "Industrial chic" as they stated on their website is certainly portrayed in every aspect of their channels from website to social media, and something for me to look forward to!
Did I feel chic after my stay with QT Melbourne? Read further to find out more!
I love how their website aligns very much with what they are portraying in their brand. It is colourful and stylish. The use of images really pay off for this hotel and allowing users to be instantly drawn to the website. The website is very easy to navigate with limited words to allow the images speak for themselves.
A very smart strategy by QT Melbourne which I will be very interested to see if this will be a successful one. They have focused on utilising blogs and articles for their Facebook channel which I have been speculating that it could be the successful strategy in the hotel industry. Well done for being the market leader for this!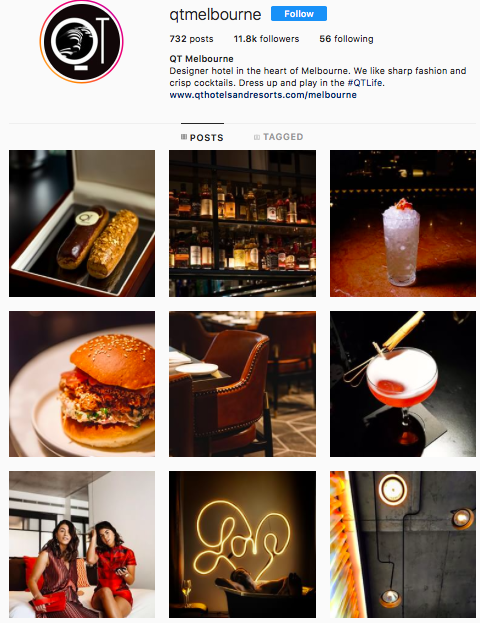 And again well done for a fantastic management of the Instagram channel. The images are well thought with much consistency that aligns with the brand. They are stylish and 'Instagram-worthy'.
Arrival
From the entrance to checking in and onwards to the guest room, it really was an immersive experience. The facade and design were absolutely stylish and industrial which makes you feel like you are in an art museum. Even the tiny little detail of the guest lifts which gave off quite a surprise as if someone was talking to you but no one was there!
I have booked the QT Deluxe King room which promises higher floor and cool views (not sure what 'cool view' mean). It also includes free wi-fi, coffee pods, Tippity tea and in-room movies (YES just what we need to have a relaxing night in and the selections were pretty good!).
Everything about the room just gives off the industrial look and feel with pop of colour. The bed looks so inviting yet too pretty for me to touch it. The roller door for the bathroom can be adjusted so that it has more of an open-space concept which is pretty cool.
The black of the shower and the white of the toilet
Verdict
Overall, it was truly an enjoyable experience with much inspiration and I did feel very chic afterwards. QT Melbourne certainly is one of the must try must stay experience in Melbourne. It reminds me of the quintessential Melbourne elements.
However this hotel does not have an in-house spa or pool so if you are after a luxurious wholesome package to feel incredibly spoiled for your staycation, this will not be the right hotel for you. Although they have a stunning rooftop bar if it might interest you?
QT Melbourne really is a hotel for guests to 'stay and go' with a touch of fun and inspiration. I would love to see more video content in their social media channels as it will be very cool and appeals to their target market. I would highly recommend to try QT Melbourne for your next city staycation!
Till next time, take care and stay inspired.
xoxo EM