Hotel Indigo Singapore Katong
EM has checked into ... Hotel Indigo Singapore Katong
Haven't heard of Hotel Indigo? Well I think you should now! After experiencing the Singapore hotel and immersing into Hotel Indigo for the very first time, I have fallen in love with the brand, and trust me, I will be adding the rest of its hotels around the world into my bucket list.
Hotel Indigo Singapore Katong is fairly new to the market with just around two years old and according to its history, it was a former Joo Chiat Police Station (where the on-site restaurant Baba Chews is). The hotel is extremely vintage yet modern, charming and colourful. Instantly it brings a smile to every guest's face and allow a guest to indulge and immerse into a strong sense of Peranakan culture (straits-born Chinese), a staple community for both Malaysia and Singapore.
Website
I love how their website is kept simple but seeks to draw attention to their images, especially with the use of a large hero image as well as large image carousel in the middle of the page, a very smart strategy. Hotel description is kept to a minimal but straight-forward to convey powerful story about the hotel. Also, I love how they highlight their on-site offers/activities to encourage guests to participate and make their stay even more meaningful.
Overall, my first impression of the hotel is already positive and the website gives off a very cute yet traditional vibe.
This is the first time I have seen a hotel implementing hotel reviews by guests as well as user-generated content as '#FanFriday'. I think this is brilliant and gives a personality to the hotel Facebook page. Also the use of knowledge into the neighbourhood and Peranakan cultural insights are certainly well received and I love it! Just shows that the hotel has many stories to tell and everyone loves stories.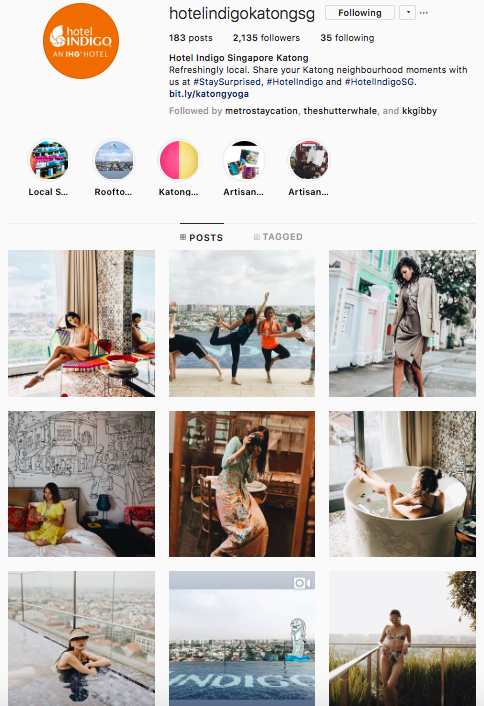 I love how they have kept the same filter for their posts to give off a consistent look and feel. It portrays vintage yet vibrant and definitely appealing to female demographics. Well done and you have earned my 'follow' and 'like'!
Arrival
Since this is a reasonably small boutique hotel (131 rooms), it is natural to have a small lobby however forces you to focus your attention to many of the details displayed in the lobby. For example the vintage cabinet design at the reception desk, the fantastic feature wall as well as the ceramic pots in front of the lifts, even the staffs are dressed in traditional outfit! Leaving you in awe and start getting curious about Peranakan culture. What a great start to my staycation and can't wait to see what the rooms are like.
Room
I stayed at the Premier Room with the Insta-famous and Insta-worthy bathtub (Room #1521 to be specific. True to its brand concept, the room is stunning and left me breathless. It portrays a strong Peranakan colours with the tiles in the toilet, the vintage cabinet design for the mini bar, the carrot board (a traditional Malaysian/Singaporean game) as a coffee table and the use of batik design on fabric such as the couch, pillows and ottoman. The best of all, I was instantly drawn to the wall design of a kopitiam scene. It is just a WOW factor!
Bathroom
They say that it is not a staycation until there is a bathtub. And my oh my, this hotel's exclusive bathtub is something that you really need to treasure and respect. It looks like a modern piece of art representing a traditional clay jar or bowl with dragon imprints. Makes you feel like you are an emperor or empress and soaking in with the views of the neighbourhood. The other significant Peranakan touch that the hotel has done is the vanity area whereby they used the old-school Singer sewing machine legs and classic enamel basin bowl. The Singer sewing machine legs again will bring a smile to every Malaysian or Singaporean's face as we reminisce upon our childhood memory with our grandparents. I used to play with the sewing machine by stepping on the paddle and making it like a race until my grandparents will whack me to stop.
Neighbourhood
Unfortunately I only had limited time during my stay with Hotel Indigo Singapore Katong, so I could only explore a few places including the famous Joo Chiat Road, which is a must to take some instal-worthy shots. Cool down with a special sweet treat at Birds of Paradise, it is at a higher price point but it is so worth it with their house made waffle cones.
Rooftop Pool
One of the hotel's main attraction is its rooftop pool, overlooking the local neighbourhood. The rooftop pool is equipped with sound system and plays upbeat music, which makes you feel like you are at a rooftop party but not over the top. And it is open until 10pm so the night time scenery must be stunning too!
Breakfast
Breakfast here is something very unique to Hotel Indigo Singapore Katong. Yes you have guessed it right, they serve a variety of local breakfast as well as Western style breakfast if you don't fancy any of the local breakfast. It is on a la carte basis but they do have a continental spread of breakfast items at the end of the restaurant, displaying juices, dim sums, toast, fruit slices, cheeses and more. It is not the classic buffet breakfast that you will find at hotels but it is still extraordinary to serve something local that represents the local culture, aligning to the brand concept.
Verdict
Overall, Hotel Indigo Singapore Katong is one of the best boutique hotels that I have ever experienced. It is charming, fun and most certainly nostalgic. The hotel has done a splendid job in representing the Peranakan culture yet incorporating modern look and feel.
There is nothing that I can find fault in this hotel except that I couldn't stay longer which was such a shame and regret. Will stay longer next time and explore the neighbourhood in more detailed. But if you need a quick weekend staycation, this hotel will be an excellent choice with lots of interesting facts and definitely will surprise you with a WOW factor. I would highly recommended for anyone regardless whether you are local or not to experience Hotel Indigo Singapore Katong. A must stay when you are in Singapore.
Till next time, take care and stay inspired.
xoxo EM