Mitchelton, Nagambie VIC
EM has checked into … Mitchelton, Nagambie (VIC)
A fairly new winery hotel located in regional Victoria and it is definitely proved itself a great beauty especially in the autumn season. Fortunately, I had the opportunity to go for a birthday staycation with my amazing friend @objectif_lettering.
Inspired by the natural surroundings and earthy tones, the hotel only has 58 rooms so be sure to book early not to miss out on a great staycation!
The website says it all about the hotel and instantly convinces you on why you should book a staycation with them. The website reflects like an elegant lifestyle magazine, it is classy yet with a slight touch of chic-ness to it. Finally a new kind of luxury has landed!
Their Facebook personality is quite ordinary like any other hotels (it isn't bad nor amazing). The good thing is that they have pretty good images but I don't feel a sense of personality from their text content. It is also perhaps the text content doesn't really match up with the vibe from the images.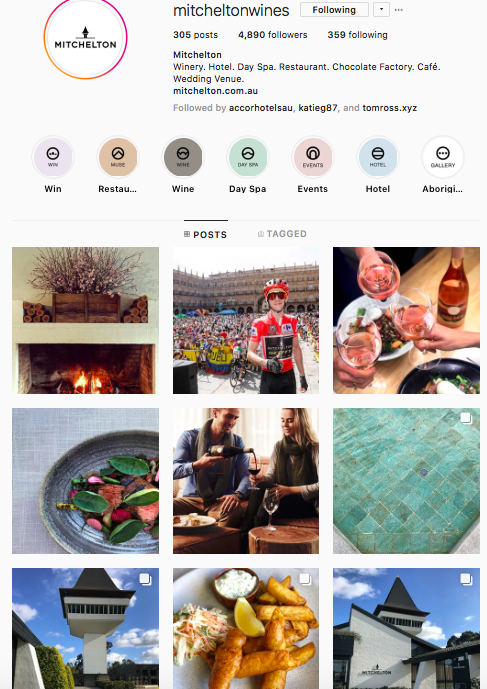 Overall, their Instagram page is doing quite well. And again thanks to their 'Insta-worthy' / lifestyle images. These definitely have paid off to portray the sense of lifestyle personality aligning with their brand.
Arrival
Driving to Mitchelton is a stunning journey, especially when approaching the single lane bridge before turning into their private driveway with trees lining up at both sides of the road. Feels quite majestic really. And then when we enter into the lobby, it gives off a very cosy yet elegant feel similar to what you would imagine from their website. Instantly revived and looking forward to the relaxing staycation!
Restaurant
Their restaurant, The Muse does have a lunch special on weekdays and it is very reasonable. Two course meal with a glass of wine and finish off with their house-made chocolates (which is also available for sale at their on-site chocolate shop by the way). Their chocolates are top quality and I would recommend to buy some when you are there.
Room
We stayed in a Twin Vineyard View room and as the website indicated, the room brings out a very cosy yet with a touch of luxury to instantly draws you into a relaxation mode. As we went in the autumn season, the weather was quite cold hence the bedding looks extra comforting. I love the bed as the blankets were really warm and soft, which allow me to have one of the best sleep so far in my life. There was a small box of chocolate samples in the room for us, so a great way to sample the chocolates if you want to before purchasing them when you check out. But I can already say that the chocolates are amazing and get some!
Breakfast
Breakfast was included when we booked for our staycation, but do note that instead of a buffet style, it delivers a la carte selection. I was slightly disappointed that it is not a great variety of a la carte selection but I suppose it is reasonable since they are not a large hotel after all.
Verdict
Overall, Mitchelton is a great new entrant to the regional hotel market. Its rates are reasonable and certainly delivers the quality, especially if you are looking for a staycation to relax and be rejuvenated. Mitchelton is very unique in a way that it gives off a quite casual, relaxing yet luxurious feel.
Unfortunately we were unable to book a spa session during our stay so my recommendation is to book early (definitely prior to your stay to lock in a time). I heard so much great things about their spa and it looks amazing on pictures!
We also didn't try out the infinity pool as it was too cold but can imagine that it will be extremely popular in the summer season.
I would say give their lunch a go as it was delicious and you can really taste the authentic preparation of the local produce. One thing to take note is that if you have their lunch session, I would recommend to pack your own dinner from home and eat it in the room as their dinner in the restaurant offers the same things as per lunch (but at a higher price) and there really isn't any other dining options outside of Mitchelton (even at the nearby town). Breakfast was a slight let down as I feel it wasn't great with limited selection. But the room exceeds expectations with such comforting bedding! It's definitely worth more than what you pay for.
So next time when you are yearning for a winery/countryside staycation, unwind at Mitchelton!
Till next time, take care and stay inspired.
xoxo EM